Long Lasting Above Ground Swimming Pool Liners
Showing all 5 results
Let us help or do it yourself
You can contract our team to install your new liner, or take it on yourself.
There is always an option at your preferred price point. Just ask our team to help find the best value for your budget.
Find an above ground swimming pool liner to suit your style and refresh the look of your pool today.
Visit or Call Us Today 905-815-5252 Visit or Call Us Today 905-815-5252
Bright, colourful liners make your pool look great
A pool liner is one of the most visible elements of the swimming pool. Your faded and worn pool liner catches your eye every time you're by the pool, and it bothers you every time. A new liner refreshes the look of your pool and brings you out to enjoy it more often.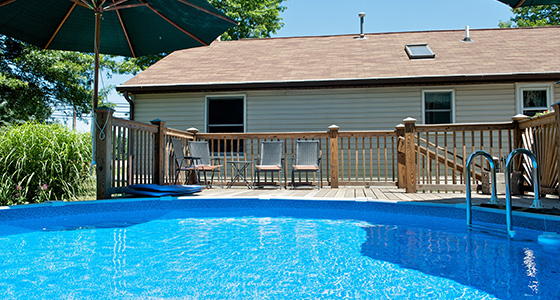 Give your pool a refreshing look
The secret to a bright, vibrant, long-lasting pool liner is the quality of pigment used to colour it. With a high quality pigment, your new above ground pool liner will last 6-10 years longer. Installation is quick and easy, and you'll be free to cool down in your bright new pool in no time.
Installation options
Your new above ground pool liner can install in two ways:
Overlapping, where the liner extends over the top rail of the pool and stays in place via the top rail.
Beaded, the standard style with inground pools, uses a hidden coping to hold the liner in place.